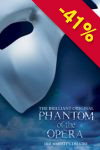 Phantom of the Opera
Her Majesty's Theatre
Hinta/henkilö alkaen € 31.10
Phantom of the Opera (Oopperan kummitus) on musikaalien musikaali ja silkkaa nautintoa musikaalien ystäville. Andrew Lloyd Webberin mestariteosta on esitetty yli 25 vuotta ja yhä edelleen, yli 11 000 esityksen jälkeen, se vetää yleisöä Her Majesty's Theatressa Lontoon West Endissä.
Kohokohdat:
- Varmista paikkasi tähän yleisön suosikkiin
- Valitse itse paikkasi
- Näe musikaalien klassikko, joka on voittanut yli 50 palkintoa
- Nauti uskomattomista erikoisefekteistä
- Ma-pe säästät lippuhinnoissa, kun tilaat netissä
Mistä Phantom of the Opera kertoo?
Phantom of the Opera perustuu klassiseen ranskalaiseen trilleriin epämuodostuneesta säveltäjästä, joka kummittelee Pariisin oopperatalossa ja rakastuu kauniiseen nuoreen näyttelijättäreen.
Tiesitkö tämän Phantom of the Operasta?
Phantom of the Opera on musiikki-ilmiö, johon kuuluu pröystäileviä pukuja ja lavasteita sekä näyttäviä erikoistehosteita. Näytelmän ensi-ilta oli Lontoossa vuonna 1986 ja sen jälkeen sitä on esitetty Her Majesty's Theatressa yli 11 000 kertaa. Phantom of the Operaa on näytetty ympäri maailmaa yli 90 kaupungissa ja se on voittanut yli 50 teatterialan palkintoa!
Muita musikaaliklassikoita Lontoossa: Les Miserables
Kuinka saan liput?
Pian ostotapahtuman jälkeen saat sähköpostiisi e-lipun, joka tulostetaan ja otetaan mukaan teatteriin.
Kenelle musikaali sopii?
Phantom of the Opera sopii useimmille. Musikaali ei kuitenkaan sovi nuorille lapsille, sillä jotkin kohtaukset saattavat olla pelottavia, onhan kyse oopperan kummituksesta. Musikaalia suositellaan yli 10-vuotiaille. Alle 5-vuotiaat eivät pääse teatteriin.
Kuinka kauan musikaali kestää?
Musikaalin kesto on noin 2 tuntia ja 30 minuuttia, tähän kuuluu väliaika.
Millainen tiimi musikaalin taustalla työskentelee?
Musikaalinn tuotannosta vastaa maailmankuulu englantilainen säveltäjä Andrew Lloyd Webber. Harold Prince ohjaa ja Cameron Mackintosh tuottaa musikaalin.
Tärkeää tietoa:
- Huomioitavaa: Grand Circlen sivuilta on rajoitettu nähtävyys. Stallsin ja Royal Circlen takaosan näkyvyys saattaa olla rajoitettua.
Phantom of the Opera Reviews
"Soaring ballads and sensational stage effects."
The Daily Telegraph
---
Phantom of the Opera Uutiset
MAJOR CAST CHANGES IN THE SMASH HIT ANDREW LLOYD WEBBER MUSICAL "THE PHANTOM OF THE OPERA" AT HER MAJESTY'S THEATRE IN LONDON! EARL CARPENTER TO RETURN TO THE ROLE OF 'THE PHANTOM' FROM MONDAY 12 ...
Lue lisää